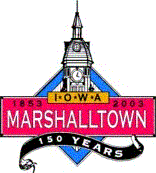 Marshalltown Milestones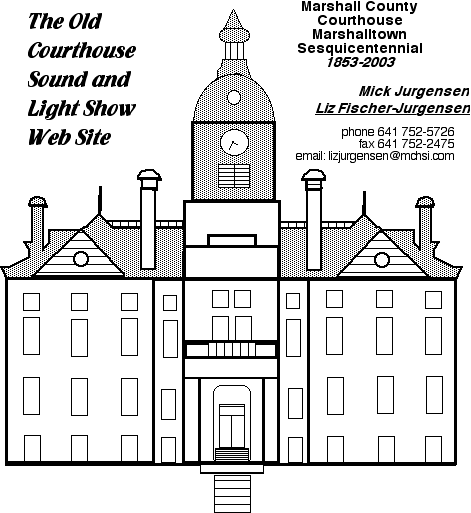 Marshall County Courthouse, Marshall County, Iowa
---
Show times:
Friday, September 26, 2003 - 8:30 p.m.
Saturday, September 27, 2003 - 7:30 p.m.
Bring your lawn chair to the Marshall County Courthouse Lawn
If either Friday or Saturday is rained out, the production will take
place on Sunday, September 28, 2003 - 7:30 p.m.
---
THERE IS NO COST TO ATTEND THE SHOW - FREE!
---
Directors:
Dr. Mick Jurgensen
Travis Swenson
Rick Gooding
Producer:
Dr. Liz Fischer-Jurgensen
Script By Dorothy Apgar and Mick Jurgensen
Click here if you would like to e-mail us lizjurgensen@mchsi.com
---
This once in a lifetime program is brought to you by:
Marshalltown Sesquicentennial Committee
Marshall County Board of Supervisors
Oktemberfest Inc.
City of Marshalltown
Mick and Liz Jurgensen
---
Marshalltown Milestones News: Look Here to Keep up to Date on Show Developments...
Promotional Materials - Posters, Paragraphs, Brochures
Click this Link to the Marshalltown Sesquicentennial Home Page
Click this Link to the Oktemberfest Home Page
---
NOTICE:
For individuals who need the program translated into Spanish,
please share thIS information that the program will be simulcast on low power channel 91.9 FM
on the courthouse grounds so that earphones may be worn in the audience.
THERE ARE A LIMITED NUMBER OF EARPHONES AVAILABLE FREE FOR USE
---
What is a sound and light show?
This type of sound and light show is modeled after European productions that are presented annually at the Lourve in Paris and at the Coliseum in Rome. Similar shows were presented at the United States Capitol and at Independence Hall in Philadelphia during the Bicentennial year.
---
What will it look like?
The main facade of the courthouse building would become the actual stage for the event and the audience would sit before the courthouse on the lawn just as the audience attends the annual Sweetcorn festival in August. See grounds setup diagram

.
During the performance, dramatic and powerful lighting washes the face of the building with spectacular colors and effects. Live pantomime actors bring life scenes from history. Periodically, silhouettes appear in windows while large video screens, and other special effects are used to tell the story of the history of Marshall County and Marshalltown through vignettes, music, and beauty. The courthouse literally comes alive before the audience!
---
Key Features of the Multimedia Sound and Light Show
---
Qualifications of Director Jurgensen
Message from and qualifications of Co-director Travis Swenson
---
Links to other sound and light shows in the world