This article appeared in the Marshall County
Historical Society newsletter "Then & Now" and
"The Lincoln Highway Forum" Spring 2005
--------------------------------------------------------------------------------
SHADY OAKS CAMPGROUND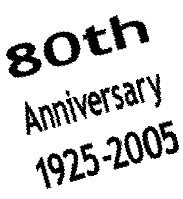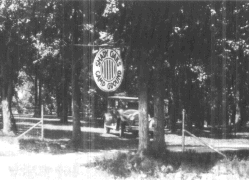 Celebrating 80Years of Travel, Tourism and Accommodations
Shady Oaks is reputed to be the first cabin camp west of the Mississippi River on the Lincoln Highway; and it is the oldest, privately owned campground in Iowa. This unique campground began in 1925, and has been in continuous operation at the same location for 80 years.
In 1848, John F. Campbell (born 1824 in Tennessee) staked a claim on the parcel of land where I live (Shady Oaks). The land patent for this 5.77-acre tract in Section 8 of LeGrand Township was issued to Campbell in 1850; it was signed by the 12th President, Millard Fillmore.
Campbell and William Asher built the three-story Rock Valley Mill on Timber Creek in 1849. In April of 1852, Marshall County's first Methodist Mission was founded at the Mill, which was along the Marengo to Fort Dodge stagecoach route. Folks waiting for their grain to be ground circled their wagons in the protective grove of bur oaks across the road. This activity and Methodist camp meetings formed the historic loop drive at Shady Oaks.
In May of 1852, the Musquakas (1875 spelling) plundered Campbell's claim, driving off his cattle, killing his hogs and making threats. Fearful of an Indian uprising, the settlers built Fort Robinson; and 24 families took refuge there until a peaceful settlement could be reached in July.
Evidence of the Rock Valley Community exists 155 years later, with its namesake pioneer cemetery still overlooking the deep cavity of the once-active Rock Valley limestone quarry. From 1862 to 1884, the white-frame Rock Valley School sat beneath the trees in the historic campground. The entrance to Shady Oaks is no doubt the same as it's been for over 150 years, and the living shrine of magnificent bur oaks stand as sentinels in memory of the Rock Valley pioneers.
The coming of the automobile brought the need for good roads. Most roads were dust-choked in dry weather and bottomless gumbo in wet weather. In 1912, Carl Fisher proposed a rock highway from New York City to San Francisco. His vision became a reality, and it was called the Lincoln Highway (1913-1927).
The Lincoln Highway was paved past Shady Oaks in 1925. Two years later, it became U.S. Highway 30. Auto travel escalated, bringing with it the need for accommodations. Early-day motorists were staying in private homes or stopping at inviting spots along the Lincoln Highway. When I first moved to Shady Oaks, Josephine Chinn Sipling, a senior member of the Rock Valley Social Club, told me that Shady Oaks was one of those spots. I have pictures of tents pitched here before the cabins were built.
In 1924, Bill and Les Norton were the entrepreneurs who built a gas station/eatery know as Shady Oaks, east of Marshalltown on the Lincoln Highway. The same year they built a log cabin for picnickers and tenters. Some tourists wanted to rent a room for the night, so partitions were put in for sleeping quarters. Les visited Florida in the fall and checked out accommodations. Upon his return, he enlisted some help; and the cabin camp dream flourished. Norton installed a Delco system for electricity and put in all the light poles and meters necessary for the dual operation.
Five identical cabins with carports were ready the first year. Soon after, seven more appeared in the middle row. They all had carports, gas heaters, sinks and running water. Three small overnight cabins appeared down the back walk, and two larger ones known as Doll House and Dreamland were built on the back row. The 18th rental was in Sleepy Hollow. There were separate shower facilities for men and women in the log cabin.
The brothers dissolved their partnership when Les married Ruth Marsh. The couple lived in the office/residence across from the log cabin, and cabin camp visitors registered at a roll-top desk on the glassed-in front porch.
In August of 1928, the 46-member Maytag-Kramme reunion was photographed at beautiful Shady Oaks. Fred Maytag of Newton and his three brothers were part of that group.
The Norton's took great pride in their property. In 1935, Gilbert Chinn built a rock garden, using limestone from the nearby quarry. Adirondack chairs and a gazing ball are pictured in front of the office/residence. Les was photographed pitching horseshoes and operating a riding lawn mower he made. There are pictures of Ruth with a bear cub and son J Leslie with his pet rooster.
The best year, 1941, set a record of nearly 6,000 guests from every state, except Maine. Pictures and reminisces confirm the attractiveness of Shady Oaks and the comfort and courtesy extended by the Norton's. World War II took its toll on travel. Even with gas rationing, the cabin camp remained open. After 20 years, Norton divided the Shady Oaks complex. He sold the cabin camp to William Smith in 1945 and the café to B. J. Rutherford in 1947. In 1948, the three-mile stretch of U.S. Highway 30 east of Marshalltown (past Shady Oaks) was turned over to Marshall County and named East Lincolnway.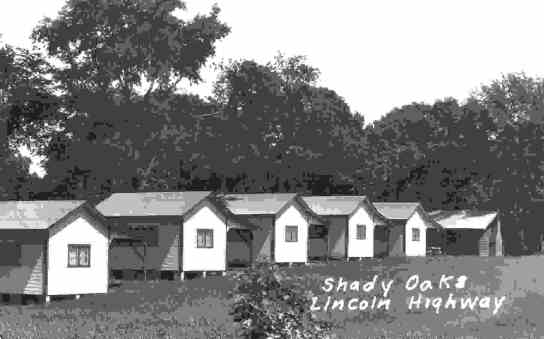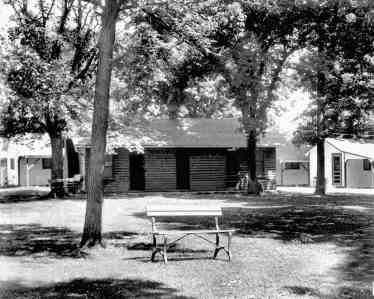 1925: First 5 Cabins and the Log Cabin Building
In 1974, we discovered a time capsule from the Smith years in the attic of the office/residence. There were over 3,200 registration forms; they included Maine, Washington DC, Hawaii, five provinces of Canada, Columbia (South America) and Habana (Cuba).
The Smiths used their home as a lodge, sometimes renting out all four front rooms. Jennie, a licensed cosmetologist, had a beauty shop in what is now a walk-in closet. Folks described Mr. Smith as a Col Sanders-type southern gentleman, who wore a Panama hat and white suit and drove a big, new sedan each year. After five years, the Smiths decided to sell.
The new owners, Don and Madrine Williamson, their son Mike and daughter Bonnie, moved to Shady Oaks in March of 1950. Another son John was born in 1953. The Williamsons experienced a decade of family get-togethers at Shady Oaks.
As the cabins lost popularity, some were sold and moved. Twelve cabins went to Pilgrim Heights; two were sold to Hinegardners, who later sold the property to the Meskwaki Nation; and another cabin is located on the banks of a farm pond. When opportunity knocked, they sold to Edd and Diane Aikins.
The Aikens began further developing Shady Oaks Mobile Home Court in 1961. That year, Orba and Gail Price moved a pink and white Liberty mobile home on to Lot #5. Later, their daughter and son-in-law, Homer and Lucille Adkins, moved into the home.
The Aikins eliminated all cabin rentals, as the last ones were replaced by small mobile homes. Only Cabin #3 remained and was used as a garage/workshop. The shower facility became a coin-operated laundry room and post office. The office/residence became rental property for the Jim Melde family, and the Aikens moved into their new home. They thought it would be an ideal place to raise their three sons. When it didn't fulfill their expectations, they were ready to sell.
My husband Robert and I purchased Shady Oaks Mobile Home Court in the fall of 1965. On January 6, 1966, we made it our home, along with our daughter Judy Gift Jurgensen and her three-year-old son Michael (Mick).
In the beginning, there were about 50 residents (15 were children) in the 18 mobile homes, which ranged in size from 8 x 35-foot to 10 x 50-foot. When spring arrived, it seemed like a resort. Residents took pride in their homes, yards and flowers. Our renters worked at a variety of places, including Fishers, Iowa Electric Light and Power, Chicago Northwestern, Lennox, Kiowa, HyVee, Marshalltown Manufacturing, Dunham Bush, Bos Lines, Ewers Shoe Store, McDonalds, Marshalltown Community College, and Marshalltown Community Schools. I seldom go to town without greeting a former renter, as they number in the hundreds over a 30-year period.
The 1918 Rainbow Arch Bridge, built for the Lincoln Highway, was replaced in 1990, which caused road closure to Highway 30 and curtailed changes at Shady Oaks. Each spring, summer and fall, we had campers desiring to park on a short-term basis. As the campground adapted to meet today's needs, its quiet charm remained.
Today rentals are accepted from April through October. Campers seek accommodations at Shady Oaks for a myriad of reasons - business, reunions, conventions, family visits, genealogical searches, Treehouse visits, etc. The beautiful, starry night of July 28, 2004, our RAGBRAII village was a harmonious blend of guests from 15 states, including Hawaii.
Many guests prefer staying along a quiet byway, instead of next to an interstate highway. "It's so peaceful at Shady Oaks!" is a frequent remark.
Shady Oaks Road is the only three-mile section of the original 3,389-mile Lincoln Highway to be named after a historic campground. Shady Oaks is an interpretive site and remains a historic link in the saga of the Lincoln Highway and the history of Marshall County.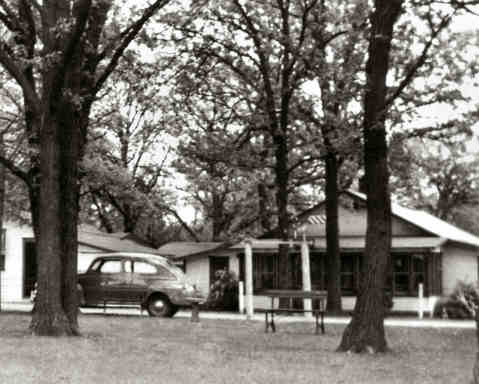 The Original Office / Residence
The landscape within the Shady Oaks has changed very little in the last 80 years. The log cabin remains in the spot where it was built. The original office/residence represents the definition of Shady Oaks vernacular. It was built by its owner, without formal dimensions, to meet a special need. My grandson Mick restored Shady Oaks Cabin #3, that Bob had used for a workshop; the carport was replaced by a screened-in porch. The legendary loop drive is used by RV campers, service vehicles, tour buses and Treehouse guests. In 1996, the DNR recognized the bur oaks of Shady Oaks as famous and historical trees of Iowa.
The continuance of Shady Oaks is a legend that links the past with the present. Through the camaraderie and efforts of three generations of my family, the property's history has been recorded. We strive to maintain the rich heritage and individuality that makes Shady Oaks an American travel treasure.
Mary C. Gift
Judy Jurgensen
Note: This document does not include the history of Mick's Big Treehouse, Shady Oaks Café or the Lincoln Highway. The website for Shady Oaks Campground and the Big Treehouse can be found at www.bigtreehouse.net.

Back to Shady Oaks Campground